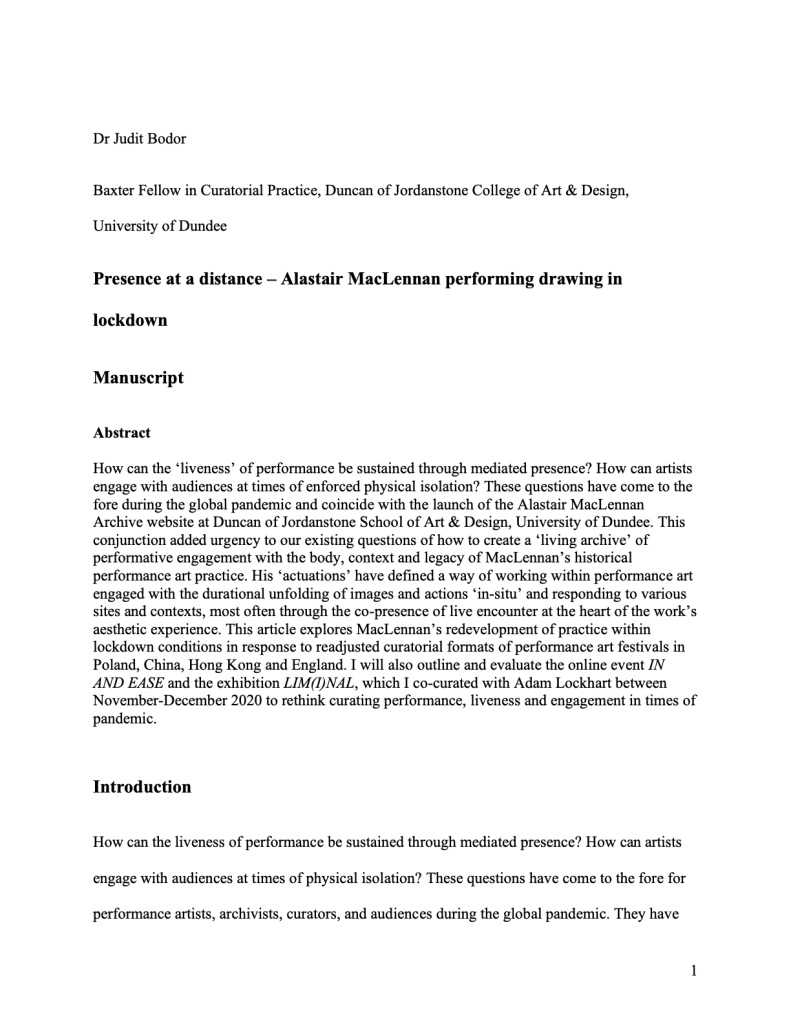 How can the liveness of performance be sustained through mediated presence? How can artists engage with audiences at times of physical isolation? These questions have come to the fore for performance artists, archivists, curators, and audiences during the global pandemic. They have been no less impactful for a collaborative curatorial project I initiated around the Alastair MacLennan Archive at Duncan Jordanstone School of Art & Design, University of Dundee. In this project, the experience of 'presence at a distance', whether in space or time, was explored to create a 'living archive' of performative engagement with the body, context and legacy of MacLennan's practice. MacLennan's 'actuations' have defined a specific mode of performance art that is engaged with the durational unfolding of images and actions 'in-situ' in response to a range of sites and contexts, and most often with a sense of live encounter, or co-presence, at the heart of the work's aesthetic experience. His live work is typically presented in performance art festivals and so dependent on international mobility, which has ceased due to COVID-19 related restrictions. Conceiving a curatorial project engaging with the artist's physical archive became increasingly difficult in logistical terms during the pandemic due to restrictions on physical exhibition making and public assembly. We found the eventual solution to this and broader questions of overcoming the gap between performance and its reception in time and space in the artist's redevelopment of practice within lockdown conditions. Unable to travel and confined to either his home or studio in Belfast, MacLennan's daily drawing practice became a prolific and multi-faceted approach to performance that enabled him, through working with Jordan Hutchings, to produce new photographic and video-based work VIAL AVAIL.

This single-authored peer-reviewed article explores how this new body of work was made in response to the adjusted curatorial formats of performance art festivals in Poland, England, China, and Hong Kong. It also outlines and evaluates in comparison Bodor's role as a companion to this process in co-curating, with Adam Lockhart, the event IN AND EASE and exhibition LIM(I)NAL to rethink curating performance, liveness and engagement with audiences online in the times of a pandemic.

The essay offers a case study in curatorial practice-as-research addressing how liveness might function on a digital platform, and how it might be possible to open a way to develop an archive as an active, performative curatorial project especially at times when physical archives might be inaccessible. Published in Performance in a Pandemic, a Routledge collection that gathers leading UK and international artists, academics, and practitioners in the fields of contemporary performance, dance, and live art to offer creative-critical responses to the impact of COVID-19 on their work.

Alastair MacLennan's VIAL AVAIL was one of the examples of artworks discussed also in the workshop 'Curating as Expanded Conservation' on 18 November 2021.